Disposable medical protective gloves
Product Detail
Product Tags
According to the material ,our gloves are divided into: latex gloves, nitrile gloves, polyethylene (PE) gloves and poly vinyl (PVC) gloves. According to the nature of the work, it can be divided into sterilization gloves and non-sterilization gloves, while non-sterilization gloves are divided into cleaning inspection gloves and housekeeping gloves.
Our Latex Gloves,including Latex Surgical Gloves and Latex Examination Gloves.Disposable latex surgical protective gloves are made of high-quality latex, strong and elastic. The lip is designed to be easy to wear while preventing toppling.Natural latex examination gloves provide unparalleled comfort and protection. They are the perfect combination of strength, elasticity and non-slip resistance. Their weight and elasticity make them good in high risk and high strength situations.
Our Nitrile gloves: the most ideal substitute for latex gloves, highly fit hand skin, with super comfort. Suitable for non-sterile operations with high risk of contact with blood or body fluids; It involves the operation of sharp instruments, the handling of cytotoxic substances and disinfectants. We can supply Diamond Textured Nitrile Gloves, Disposable Nitrile Exam Gloves.The raised diamond textured delivers an unbreathable grip, and the thickness of puncture and tear resistance. It offers a comfortable confident grip and protect for mechanics/auto repair, oil changes, janitorial, painting, manufacturing, plumbing and many other industrial applications. Disposable Nitrile Exam Gloves is used as a good biological & chemical barrier to protect the user's hands against contamination and dangerous substances. It is ideal for medical healthcare and dental procedures. 

PVC inspection gloves for medical use.PVC inspection gloves with powder and powder free series with new and improved formula of materials, bring a softer feeling than the previous products, while ensuring good protection against a variety of substances and microorganisms, is an excellent alternative to latex gloves for people allergic to protein.
Medical examination gloves.The performance and strength are higher than traditional PVC gloves, and the wear resistance is dozens of times higher than similar nitrile gloves. It is a cost-effective hand protection product.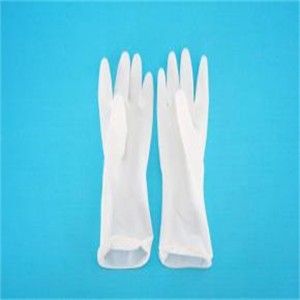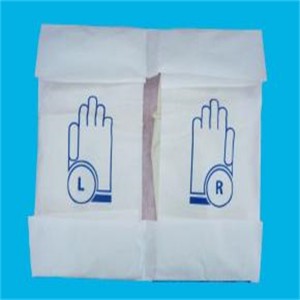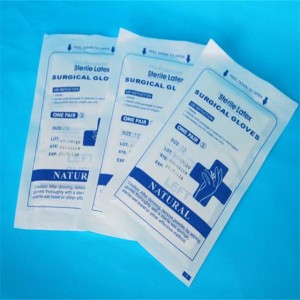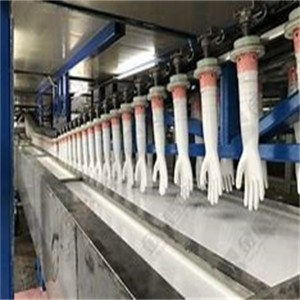 1/ Made form natural rubber latex and compounding materials safe for use in medical gloves;
Curved finger, anatomic shape for comfortable fit and prevention of fatigue;
2/Safe grip finish with textured surface;
3/Thinner wall at finger tips for better sensitivity;
4/Beaded cuff to prevent roll down, maintain sterility and provide extra strength.
Medical Latex Surgical Gloves Item No.
– Powdered
– Powder Free(Polymer Coated)
SIZE

6.0

6.5

7.0

7.5

8.0

8.5

9.0

PALM WIDTH +/-5mm

76

83

89

95

102

108

114

LENGTH+/-5mm

265

265

275

275

275

285

285

PHYSICAL PROPERTY Min

Tensile Strength
Elongation

Before Aging 24 Mpa
750%

After Aging 18 Mpa
560%

Watertight Test

<=AQL1.5

 Manufactured in accordance with ISO 13485 systems. Meets ASTM, EN, JIS, AS standards
Medical Latex Examination Gloves Item No.
– Powdered
– Powder Free (Polymer Coated)
SIZE

S

M

L

XL

PALM WIDTH +/-5mm

82

95

105

≥110

LENGTH+/-mm

235

PHYSICAL PROPERTY MIN

Tensile Strength
Elongation

Before Aging 7N
650%(mm)

After Aging6N
500%(mm)

THICKNESS ≥0.08

Manufactured in accordance with ISO 13485 systems. Meets ASTM, EN, JIS, AS standards
---
---
Write your message here and send it to us