Medical Absorbent Cotton Compressed Roll or Piece
Product Detail
Product Tags
Medical absorbent cotton  is made from 100% pure natural cotton,  by removing inclusions, degreasing, bleaching and processing.It is mainly used for clinical dressing in hospitals.For ease of use, it can be compressed into a roll or packed into small pieces from 5g to 500g.
Medical absorbent cotton is one of our MAIN products and the BASIC products we have been continuously producing since 2003.The requirements, test methods, inspection rules, labeling, packaging, transportation and storage of medical absorbent cotton conform to the National standard YY0330-2015 for medical absorbent cotton:
Character: soft and elastic white fiber, without color spot, stain and foreign body, odorless, tasteless.

White degree: not be less than 80 degrees.

Soluble in water:Residue is less than 0.5% in 100mL test solution.

PH:Phenolphthalein indicator and bromocresol violet indicator do not show pink in 100mL test solution.

Easy oxide:Adding potassium permanganate to 40mL test solution do not completely disappear the red color.

Water absorption time: be sunk below the liquid level within 10S.

Water quantity:Water absorption per gram sample do not be less than 23g.

The soluble substance in ethers:Residue is less than 0.5% in 100 mL test solution.

Fluorescent material:no  blue fluorescence can be observed.

Dry weight loss:2g  was dried to constant weight, and the weight loss do not exceed 8.0%.

Burning residue:2g  was dried to a constant weight, and the residual residue in the test product do not be more than 0.5%.

Surface active substance:The surface active substance foam in the test solution do not exceed 2mm.

Sterile:Medical cotton products supplied aseptically  undergo an approved sterilization process.
In addition to being used directly for wound treatment and absorption of exudate during surgery,as the basic raw material of medical supplies, medical absorbent cotton can also be further processed into cotton balls, cotton swabs, cotton pads, non-woven fabrics, etc.
It is suitable for cleaning and swabbing wounds, for applying cosmetics. Economical and convenient for Clinic, Dentistry, Hospitals,Beaty salon, Nursing Homes .It is also well in beloved pet care.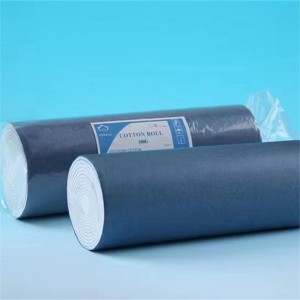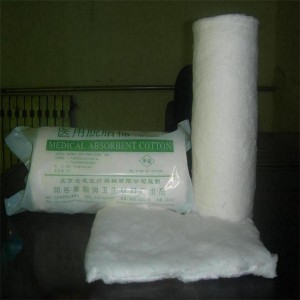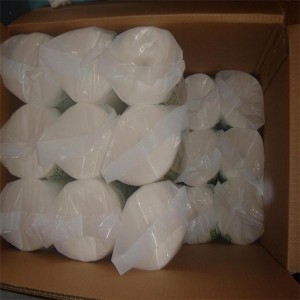 1)100% high quality cotton, environmental bleached, high absorbency capacity
2)Soft and comfortable, Safe and Sanitary ,Green Environmental and Healthy
3)Type: cotton roll, cotton piece
4) Specification: 5g, 10g, 50g, 100g, 150g, 200g, 250g, 300g,400g, 500g ,or customerized
5)Package: blue craft paper , white plastic bag, PE bag , bale or customerized
6)Conform to China Food and Drug Administration's quality requirements
7)We can supply OEM and ODM customization services
---
Previous:
Cotton Swabs With Variety of Sticks
---
Write your message here and send it to us